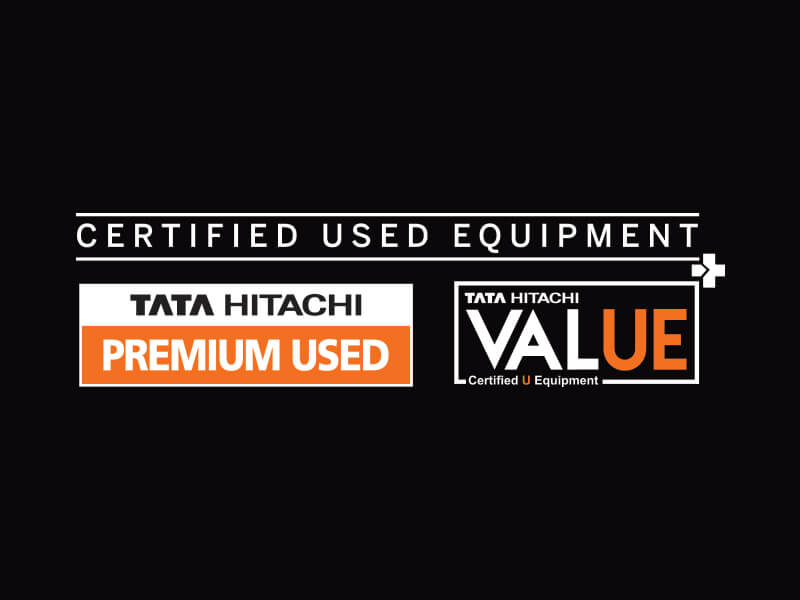 About Us
About Tata Hitachi
Used Equipment
Tata Hitachi Used Equipment - a certified used equipment program - was started with the objective of providing reliable certified used machines to customers.
This business has two categories: -
Tata Hitachi
Premium Used
All Certified Used "ZAXIS-Series" Excavators, refurbished at Authorized Tata Hitachi Dealer Workshops.
Tata Hitachi
Value Plus
All Certified Used "EX-Series" Excavators, Wheel Loaders & Backhoe Loaders, refurbished at Authorized Tata Hitachi Dealer Workshops.
Through the Tata Hitachi certified program, customers can Buy, Sell or Exchange used equipment of any brand.
Our focus on quality is at the heart of the used equipment business. Coupled with the commitment to facilitate outreach to customers. A commitment backed by a country wide network of Authorized Dealerships promising a robust support system.
At Tata Hitachi, each used equipment is evaluated though a comprehensive 64 - point performance and checked by Tata Hitachi Engineers.
This business encompasses the following:
1
Buyback of used Construction Equipment (Excavators / Wheel Loader / Backhoe-Loaders) from the market & exchange with a NEW Tata Hitachi machine
2
Refurbishment of Tata Hitachi Used Construction Equipment (bought-back from the market) at our Authorized Dealer Workshops with Parts & technical support from us.
3
Refurbished machine sold as a "Certified Used" machine with Tata Hitachi Certification, Limited Warranty and free services.
The purchase of a "Tata Hitachi Premium Used" OR "Tata Hitachi Value Plus" machine under the certified used program, is backed by an all-round assurance from the organization. The machines can be serviced anywhere in India and command a higher re-sale prices vis a vis 'as is' machines. The promise of Tata Hitachi's limited warranty, free services and ease of finance facilities, ensures ease of mind for the customer.
Tata Hitachi
Premium Used

&

Value Plus